Shoes Under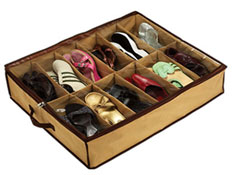 Shoes Under is the ultimate space saving shoe organizer. This space saving solution allows you keep your shoes organized and protected.
A single Shoes Under can hold up to 12 pairs of shoes. Plus it can slide under your bed, saving you valuable closet space.
Using Shoe Under will keep your closets free of shoe clutter and keep your shoes perfectly organized.
Shoes Under is not just for shoes either. You can use it to store socks, toys, stuffed animals, scarves, belts, purses, and much more.
Shoes Under Features:
Keeps your shoes protected from dust, moisture & bugs
Holds up to 12 pairs of shoes
Clear, zipper see-through cover
Sturdy nylon handle
Reduces closet clutter
Get the Flash Player to see this player.
Normally a single Shoes Under retails for $10 plus the cost of shipping and handling but right now there is a special double offer available.
This means you'll get 2 Shoes Under for the price of one. You just have to pay the additional shipping on the second one.