Space Bag Underbed Closet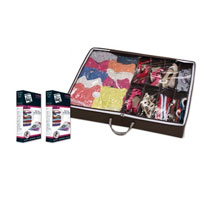 The new Space Bag Underbed Closet Organizer can instantly help you triple your storage space. It can hold up an amazing 16 pairs of shoes and up to 24 sweaters, pants, or jackets.
With the Underbed Closet Organizer, having too much stuff in your closet is no longer a problem. They provide an airtight, waterproof and dust free solution for storing your shoes and clothing.
This easy to use solution will help you save space quickly. First just pack your clothing into the 2 included Large Space Bags and then vacuum the air out.
Next place the compressed bag in Underbed Closet and then pack your shoes in there. Then zip it close for additional protection and slide it under your bed.
The Space Bag Underbed Closet will protect your items and ensure that there are no dust, dirt, odors, mildrew, or bugs. Use it to organize your sweaters, shirts, pants, jackets, accesories, toys, sports gear and more.
Get the Flash Player to see this player.
A single Underbed Closet Organizer with 2 Large Space Bags is only $19.99 plus shipping and handling. But there's more because you'll also receive a total of 5 additional Space Bags for free. You get 2 Large and 2 Medium bags for paying the extra shipping cost.
Or upgrade to the deluxe offer with 2 Underbed Closet Organizers and 4 Large Space Bags for $59.95 plus shipping and handling. You'll also get 5 Medium Space Bags, 2 Large Bags, and 2 XL Cubes for free. You just have to pay the additional shipping. Plus you'll also receive a free upgrade to rush shipping