Twin Draft Guard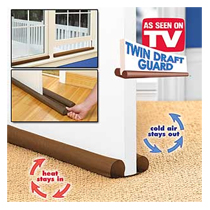 Twin Draft Guard lets you keep the warm air in and the cold air out. It can help you save money by cutting down on your heating bills.
The double insulated design creates an air tight seal that will minimize the amount of energy loss.
Twin Draft Guard will block drafts and keeping allergens, such as dust, pollen and even insects from getting into your home.
It is simple to install and works on doors of all sizes. Use it in basements, garages, doors, floors and it will even work on windows.
Twin Draft Guards are also helpful at blocking harmful fumes from the garage and the damp chill from the basement.
Get the Flash Player to see this player.
With this current special double offer you can get a set of 2 Twin Draft Guards for just $19.99 plus shipping and handling. As a special bonus you'l also get a free Over the Door Hooks with your order.