I Know Key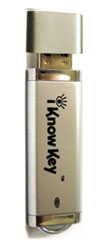 These days to keep your family protected you need to know what they're doing on-line. That is why you need the I Know Key.
This easy to use, USB key allows you to find out what your kids, your spouse, or your employees are doing on any of their computers.
The iKnow Key couldn't be simpler to install.  Just plug the key into the computer and it automatically installs without a trace.
Afterwards just remove it, and your computer takes up to 500 confidential screen pictures of what's happening while you are away.
When you return, just plug the I Know Key back in and it shows you a slide show of those pictures. You can even store or print them as proof.
Even if the computer's history is cleared, emails deleted, or photos trashed, the I Know Key still captures pictures of it all.
Get the Flash Player to see this player.
You've seen complicated Internet tracking software such for as much as $150.00, but you can order the I Know Key for just only $19.99 plus shipping and handling. Plus you'll receive a free Instant Messenger Guide.