EdenPure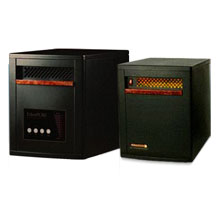 The EdenPure Gen3 are the efficient infrared portable heaters that provides comfortable warmth and can save you money by cut down your heating bill.
It greatly outperforms regular electric coil heaters and doesn't reduce the oxygen in the air.
With the EdenPure you can keep you and your family warm while still being able to breathe easy at the same time.
The EdenPure works quickly and is designed to evenly distribute moist, soft heat across the entire room. It reaches the floor to the ceiling and from wall to wall.
Since the EdenPure uses infrared technology to heat your room it is safe to touch and move around whenever you want.
In addition, it is also energy efficient. With the EdenPure the average homeowner can saves 10% to 25% monthly off their energy bills.
Get the Flash Player to see this player.
Two different models of the EdenPure Gen3 heaters are available There is the Model 500 which heats up to 300 square and the Model 1000 which heats up to 1000 square feet.
The EdenPure Gen3 Model 500 is $297 and the Model 1000 is $397. Before models comes with free shipping and handling.