Hormone Remedy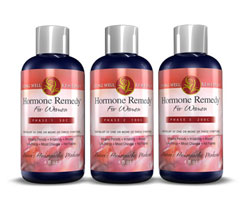 Hormone Remedy from Living Well Remedies can help you enjoy life again by providing you with natural and safe relief from menopause symptoms.
The formula is made from natural, safe, and effective ingredients that provide complete and lasting relief from the various symptoms of pre-menopause and menopause.
You can use Hormone Remedy to help with the hot flashes, night sweats, irritability, sleepless nights, low energy, and the many other nagging issues associated with menopause.
Unlike many other menopause relief products, Hormone Remedy is a unique solution that you do not have to take forever. It is formulated as a three-phase system that includes 3 bottles with a different formula inside each.
You take the phase 1 bottle for the first month, the phase 2 starting the second month and end with phase 3 the third month. They are designed to work together to provide relief for PMS with no adverse side effects.
Get the Flash Player to see this player.
You can start off with the Phase 1 Bottle of Hormone Remedy for $49.95 plus the cost of shipping and handling. The additional 2 phases are available for $49.95 each plus shipping and handling.
Or you can order all 3 phases at once for just only $99.95 plus shipping and handling. That is a savings of almost $70.