Gem Keep It Cool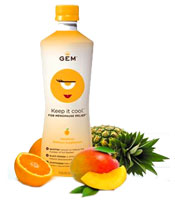 Help relief the symptoms of menopause with Gem Keep It Cool. It is endorsed and used by Marie Osmond.
Gem contains a combination of ingredients that is safe, effective, tastes great and works great.
It will helps reduce the intensity and frequency of hot flashes and night sweats caused by menopause.
In addition, Gem reduces irritability, mood swings, and sleeplessness while helping restore the body's natural balance.
Gem Keep It Cool is one of the top solutions for helping women with stress, aging, mental acuity and bone strength. The delicious light, peach and pineapple flavor makes it easy to take.
Get the Flash Player to see this player.
A 32-day supply of Gem normally retails for $99.95 but through this current special offer you can order it for just $59.95 plus shipping and handling.
Update: This offer has expired