EZ Motion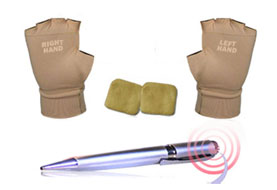 Suffering from carpal tunnel syndrom, arthritis, and other forms of chronic pain on your hands? Then EZ Motion Heat Therapy Gloves can help.
It is a targeted thermal therapy system that will have you living pain free. You can do all the great things you love again with the discomfort.
Ez Motion is made with with a unique compression fabric and is designed to properly supports the hands.
It provides pain relief from normal activities. This includes typing, sports, crafts, gardening, household activities and much more.
EZ Motion is comfortable, easy to use, and discreet. You no longer have to wear the ugly braces.
Get the Flash Player to see this player.
A set of EZ Motion thermal gloves and 2 thermal packs costs just $10 plus shipping and handling. In addition, you'll also receive a free Stress Eliminator Massage Pen. Just pay the additional shipping.