Beauty Silkz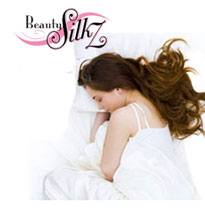 Ashley Jones proudly presents Beauty Silkz, one of Hollywood's best kept beauty secrets for having beautiful skin.
The secret behind the Beauty Silkz pillowcase is that it is made with Silk Charmeuse, which helps reduce fine lines and wrinkles while you sleep.
Silk Charmeuse has 18 essential amino acids and natural proteins that hydrates the skin and reduce the signs of aging.
For centuries the Chinese have been sleeping on a silk Charmeuse pillowcase to help prevent facial lines, wrinkles, and the dreaded "bed head".
Beauty Silkz creates a natural moisture barrier that keeps your skin hydrated while you sleep. It won't absorb away moisture or facial beauty creams from your face during your sleep like cotton and other material does.
In addition it is naturally hypoallergenic and is great for those with sensitive or dry skin. Plus it can also help prevent thinning hair too.
Get the Flash Player to see this player.
Right now with this exclusive online offer, when you purchase a Beauty Silkz pillowcase for $19.99 plus shipping and handling you'll receive a second one free.
That's right, free. You just have pay the additional shipping and handling cost of the second Beauty Silkz. Plus you'll also receive a Beauty Silkz Travel Bag with your order.
Update: This offer has expired