Silk'n SensEpil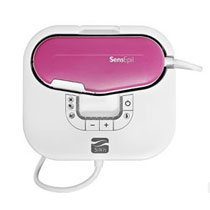 Get silky smooth and hair-free skin with the Silk'n SensEpil hair removal system. It lets you easily get rid of unwanted hair from the privacy of your home.
Silk'n SensEpil is a long term hair removal solution that uses a safe, clinically proven, and FDA-cleared technology called Home Pulsed Light technology.
It works by sending a light pulse signal that is absorbed into the shaft of the hair and will disable hair growth. When hair growth is disabled, long term hair removal is achieved.
Silk'n SensEpil has be tested and recommended by many top dermatologists and plastics surgeons. It is one of the best ways to achieve long term hair removal safely, easily and effectively from within your home.
For futher safety, there are additional built in safety features such as the Skin Sensor. It will automatically detect if your skin complexion is safe for the hair removal treatment. The treatment will only begin if it detects your skin tone is in the allowable range.
Unlike other hair removal techniques such as waxing or other laser treatments, Silk'n SensEpil has minimal discomfort. Most users of the product describe the feeling as being similar to an elastic band lightly hitting the skin.
Get the Flash Player to see this player.
Using Sik'n SensEpil is a much more cost effective hair removal solution than getting professional hair removal at a doctor's office or  salons. Those treatments can cost anywhere from $1,000 to $2500 for just one body area. With Silk'n SensEpil you can get the safe professional quality results at a fraction of the price.
The Sik'n SensEpil system comes with the device unit, a lamp cartridge and an instructional DVD. It sells for $499 plus the cost of shipping of shipping and handling.
There is also a smart payment plan option that is available. You can make a first payment of $199 and the remainder in equal smart payments. The product comes with a 60-day money back guarantee.