Firma-Face XR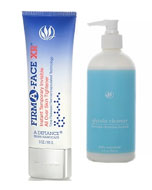 Finally there is now a real, temporary facial firmer that everyone can use with Firma-Face XR from Serious Skin Care.
This new breakthrough beauty product reconnects and tightens the look of the skin's surface instantly.
Watch as the skin becomes firmer, tighter, and smoother while wrinkles and fine lines are dramatically reduced.
Firma-Face XR features time-released nanoencapsulated technology so the results from each application last longer. Plus the ingredients used are micronized (shrunk) for better performance and absorption.
The Serious Skin Care line and Firma-Face XR was created by Jennifer Flavin Stallone, wife of Sylvester Stallone. The company has been delivering quality skin care and beauty products for 17 years.
The brand new Firma-Face XR is their latest breakthrough product and the ultimate facial firmer. It is the only facial firmer that is clinically proven to lift, firm, and tone the entire face instantly.
Get the Flash Player to see this player.
Right now you can order a bottle of Firma-Face XR, which lasts for around 60 days, for just 2 easy payments $24.99 plus shipping and handling.
In addition, you'll receive a bottle of Serious Skin Care Glycolic Cleanser absolutely free. That's a $22 value free. Plus Firma-Face XR comes with a 30-day money back guarantee.