Vibro Belt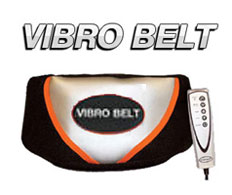 Now you can get the lean, flat, and rock-hard abs you've always wanted with the Vibro Belt, a high performance core system.
The Vibro Belt will firm and strengthen the target areas of the body, including the abs, shoulders, thighs, calves and buns.
You can use it while you work in the comfort of your own home, nothing could be more convenient.
The vibrating massage from the Vibro Belt features a variety of program settings, rotation directions and intensity levels so you can customize your very own session.
It has 5 control levels which includes a targeted heat function, auto and manual modes, a 10-minute auto-off function and an oscillating massage feature.
The Virbo Belt includes a Vibrating Belt, Walk It Off CD, AC Adapter and User's Manual.
Get the Flash Player to see this player.
The Vibro Belt retails for 4 easy payments of $29.99 plus the $14.99 for the cost of shipping and handling.
Right now you can get a 1 month trial of the Vibro Belt by just paying the shipping and handling cost of $14.99 plus the first installment payment.
Update: This offer has expired.