Sport Elec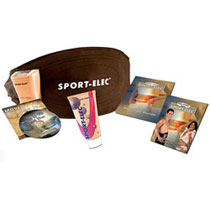 The Sport Elec System is the time saving way to get the firm abs you've always dreamed of without having to do tiresome sit-ups or crunches.
It is designed to stimulate the muscles in your ab to tone and shape them. Sport Elec has been cleared by the FDA for ab toning, firming and shaping.
With Sport Elec you'll effectively tone, tighten and strengthen your ab muscles, increase your endurance and improve abdominal muscle tone.
Sport Elec uses an effective electronic muscle stimulation (EMS) technology in order to stimulate the muscles in your abs. It helps you get sexier and better looking abs without having to do any exercises.
You can conveniently use the Sport Elec while watching TV, in the office, on the phone, reading a booking or cooking. Sport Elec works for both men and women and is for individuals of all fitness levels.
Unlike other ab toning systems there's no messy peel-off pads. Sport Elec features a new technology with 4 built-in toning pads that never needs replacing. You won't have to spend $20 or $30 every month to get new gel pads.
Get the Flash Player to see this player.
The complete Sport-Elec system comes with the Sport Elec Ab Belt, a 1 month supply of contact gel, the Sport Elec Eating Plan guide, and the Sport Elec Move It To Lose It walking CD.
You can order the complete Sport Elec Systemm for just $79.99 and it even comes with free shipping and handling.