Tae Bo T3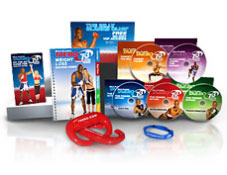 The Tae Bo T3-Total Transformation Training system is Billy Blanks' newest and greatest Tae Bo workout yet.
It is designed for a total transformation of the body, mind and life all together.
New to Tae Bo T3 is the ergonomic, one-pound T3 hand weights which improves the effectiveness of the workouts.
By adding weight resistance to your T3 workouts, the hand weights will accelerate and maximize your fitness potential.
With Tae Bo T3, you'll get everything you need to lose weight and get fit fast. It includes:
The Power Within: Ignition
The Power Within: Acceleration
The Power Within: Transformation
Blanks-Sensei: Learn the Moves
Target Tae Bo
Hand Weights
Tae Bo Weight Loss Success Guide
30 Day VIP access to Billy's Web Club
On-the-Go Guide for Healthy Eating
The Power Within Bracelet
Get the Flash Player to see this player.
You can order the Tae Bo T3-Total Transformation Training for just 3 easy payments  of $19.95 plus shipping and handling.
Or you can make 1 payment of $59.85 plus shipping and handling and get priority handling for faster shipment.
Update: This offer has expired