Total Gym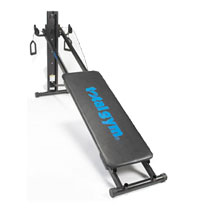 Discover how easy it is to get fit and stay in shape with the Total Gym home gym system, endorsed and used by Chuck Norris himself.
Chuck Norris started using Total Gym over 30 years ago and today it still continues to be his primary home gym.
This is because the Total Gym takes all of the guesswork out of getting into shape. It provides all the workouts you need get fit at home.
Using Total Gym is one of the fastest and easiest solutions to get a gym quality work from the comforts of your own home. To date there has been over 3 million households that now own a Total Gym.
There's 3 different Total Gym home models are available to suit your needs. You can choose from the basic Total Gym 2000, the mid-range Total Gym 3000, or the top of the line Total Gym XLS.
Get the Flash Player to see this player.
Prices for the Total Gym start as low as just $599.40 with affordable monthy payment options. There are also 30-day trial offers available for each model where you can try the Total Gym in your own home first before you buy.
Also each Total Gym home gym system comes with free shipping. So you won't have to pay expensive shipping costs like with other products.