Jillian Michaels Body Revolution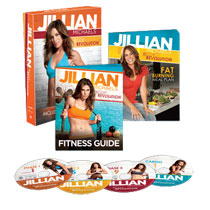 Jillian Michaels Body Revolution is an all new workout system from the celebrity fitness trainer. It is Jillian's first comprehensive extreme weight loss system released on DVD
The Body Revolution program is a 90-day, 3 phase weight loss program. It contains some of the most cutting-edge workouts from Jillian Michaels and a scientifically proven diet plan for effective results.
You seen Jillian as America's Toughest Trainer on The Biggest Loser help countless individuals get into shape with tremendous results. Now for the first time she is sharing the weight loss and total body transformation techniques that really work in Body Revolution.
The key to Body Revolution is maximizing your body's diet and fitness potential in order you give you dramatic results at an accelerated pace. There's a complete set of compact and effective 30-minute workouts and a healthy eating plan that can help transform your entire body in just 90 days.
One of the key techniques used in Body Revolution is called Metabolic Training. This was developed over Jillian's 20 years of expertise in the fitness industry and incorporates many exercise techniques used by elite athletes into a single program.
Jillian's Metabolic Training technique helps you burn calories faster and accelerates your body's metabolism so you continue to burn fat and calories long after your workout is done.
To ensure you don't get bored and experience burnout, each workout in Body Revolution contains a variety of different exercises. Theyt een personally handpicked and crafted by Jillian to ensure you never get bored and continue to stick with the program.
Get the Flash Player to see this player.
Jillian Michaels Body Revolution System comes with 15 Workout DVDs, a Fitness Guide, 90-day Fat-Burning Meal Plan and a 90-Day Journal to track your progress. It sells for 4 payments of $29.99 plus shipping and hanlding.
As a special bonus you'll also receive a set of free gifts valued at $70. It includes a Resistance Cable, 7-day Kickstart Your Metabolism Workout, 90-day Journal,  Bookmark, and 30 days of free access to Jillian's Premium Weight Loss online program.