Rip60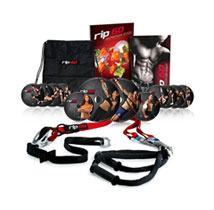 Rip60 is the 60 day workout system that can help transform your body in just 2 months. It utilizes a revolutionary new workout technique that involves rotating straps.
These straps are used for suspended rotation as they rotate back and forth while you exercise. This activates more in the body and forces them to work together to help keep your stabilized and balanced.
As a result, Rip60 not only helps you get your body into shape but it can also help improve balance, stability and coordination too.
Rip60 works because of something called the optimization zone. With any workout, your body will eventually start to tire and want to quite. But with Rip60 you can simply step forward or backward to change your angle and decrease or increase the load without losing your form.
The Rip60 straps can be easily hooked onto any door. Alternatively, you can also attach them to a fence, tree, or a playground bar. They are made with aircraft-quality aluminum and heavy-duty nylon and are designed support up to 600 lbs.
The Rip60 workout is used and endorsed by both celebrity TV trainer Jillian Michaels and MMA fighter Georges St. Pierre, who is the current UFC Welterweight Champion. Special workouts DVDs with Rip60 exercises created by the two are included.
Get the Flash Player to see this player.
You order the Rip60 workout system $139.99 plus the cost of shipping and handling. In includes the Rip60 Straps, a Wall Chart Exercise Guide, a 60 Day Nutrition Guide, and Nylon Carrying Bag, and a total of 12 workouts DVDs.
The workouts DVDs includes 8 DVDs for 8 week Rip60 program, the Jillian Michaels Fat Shredding DVD, the Georges St. Pierre Lean Muscle DVD, the Rip60 for Runners DVD, and the Rip60 Power Yoga DVD.