Serotonin-Plus Weight Loss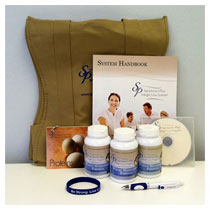 The Serotonin Plus Weight Loss program is designed to help individuals lose weight by reducing their craving for carbohydrates and boosting their metabolism.
The key to this weight loss solution is the Serotonin-Plus Weight Management Formula, an all-natural supplement which helps balance Serotonin levels. Serotonin is an important natural chemical that occurs in our brains.
Having a low or imbalanced Serotonin levels can often leads to having cravings for food such as carbohydrates or sweets like chocolate. Other adverse effects also includes depression, anxiety, headaches, and a lack of energy.
The Serotonin Plus Weight Loss is designed to help naturally balance out Serotonin levels in order to cut down on your food cravings. It was developed to for safe lose weight safely and continue to keep the weight off.
The system is based on the same successful Serotonin weight loss programs that are being used by physicians worldwide. This version is created by Dr. Robert Posner, who is a graduate of Downstate Medical School in New York and a Diplomat of the American Board of Internal Medicine since 1984.
Serotonin Plus is safe and does not have adverse side effects like prescription diet pills do. It should not cause any problems with blood pressure and in addition to helping lose weight, people have exhibited other positive benefits such as mood enhancement, more energy and less headaches.
Get the Flash Player to see this player.
The Serotonin-Plus Weight Loss Starter System sells for $99.95 plus the cost of shipping and handling.  It includes 3 bottles of the Serotonin-Plus Weight Management Formula, a 90 day supply.
Also included is a Transitional Dietary Plan booklet, Dr. Posner's DVD explaining the dietary plan, a set of Flip Cards, a SP "Be Strong/Live Long" bracelet, and reusable shopping bag. You also have access to phone support with a personal SP System Counselor, and unlimited online support from your counselor as well.