Duzoxin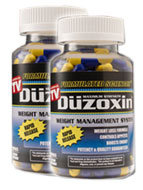 Get a slim and sexy with Duzoxin, the maximum strength weight management system. Unlike other weight loss formulas, it is not an empty promise in a bottle.
Duzoxin works to help you loss weight fast by suppressing your appetite and decrease your cravings.  Plus it also increases your metabolism to help burn fat and also boosts your energy levels.
The formula only contains the finest herbal ingredients available today. There is no ephedrine used and it is completely safe.
Duzoxin is endorsed and recommend by Vicki Gunalson from. "The Real Housewives of Orange County". Other co-spokespersons for Duzoxin include Ramona Singer from "The Real Housewives of New York", fitness model Ali Sonoma, and MMA fighter Jessica Pene.
Follow the 6 week program of Duzoxin today and be on your way to achieving that slim and sexy body.
Get the Flash Player to see this player.
Normally a single bottle of Duzoxin costs $59.95 but right now there is a special buy 1 get 1 free offer with 2 payment options available. You can 2 bottles of Duzoxin for just 3 easy payments of $19.99 plus shipping and handling.
Or you can  make 1 full payment of $59.95 plus shipping and handling and get 2 bottles of Duzoxin plus a free Duzoxin key-chain, hat, and T-shirt.
Update: This offer has expired