Style Snaps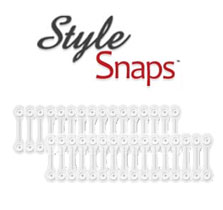 Style Snaps from Hemming My Way is the world's first snap and hem solution. There is no sewing, no ironing and no gluing necessary.
With Style Snaps you can make any pair of shoes in your closet work with any pair of shoes you want, whether it is flats or heels.
This amazing adhesive snap hem lets you to simply snap under your long hem for flats and unsnap whenever you want when you slip back into heels.
Style Snaps lets you can change your shoes, not your pants, to get the look that you desire. You can change your hem as often as you change your shoes.
Using Style Snaps is simple and quick. You just peel, place and snap them into place. They contain a unique adhesive that makes them adjustable, reusable and safe on any fabric.
Style Snaps aren't just for your jeans either. You can use them on your lapels, belts, shirts and a lot more to tame any wardrobe.
Get the Flash Player to see this player.
Normally a single set of 16 Style Snaps sells for $10.0 plus shipping and handling but right now there is a special buy 1 get 1 offer available. You'll get a second set 16 bonus Style Snaps for free by paying the additoinal shipping.
That's a total of 32 Style Snaps for $10 plus the shipping and handling cost, which is enough to snap and hem a whole closet full of clothes.