Space Bag Travel Bags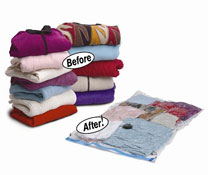 Introducing the Space Bag Travel Storage Bags which lets you pack up to twice as much.
No vacuum is needed with these Travel Bags. You simply put in your items, seal the bag, and then roll out the air.
You'll instantly get double the storage space while everything will easily fit into your backpack, suitcase, or beach bag.
They are perfect for vacations, camping, boating, and more. Space Bag Travel Bags can help you avoid paying extra baggage fees when flying.
The Large Space Savers are 18″ x 22.5″, the Medium is 13.5″ x 19.5″, and the Small is 11.5″ x 13.5″.
Get the Flash Player to see this player.
 Order now and take advantage of the special double offer. For just $19.95 plus shipping and handling, you'll get a total of 12 Space Bag Travel Bags.
This includes 4 Large Space Savers, 4 Medium Space Savers, and 4 Small Space Savers.