Mighty Blast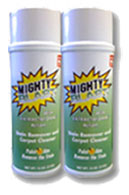 Mighty Blast is the amazing new stain remover with lets you blast away stains from up to 6 feet away.
Now you no longer have to worry about having to bend over and scrub to remove stains on your carpet.
Mighty Blast will work on all kinds of stains no matter new or old. With the power of the blast, virtually any stain is gone fast.
It will remove stains from juices, wine, oil, hair dye, nail polish, shoe polish, food, dirt and more. Plus it works great at removing pet stains and gets rid of the odor at the same time.
The secret behind Mighty Blast is the extract-a-foam action that lifts, breaks up and disintegrates most any stain without ever harming your carpet.
Migthy Blast is made with all natural ingredients and is completely safe to use inside your home.
Get the Flash Player to see this player.
Normally one 15 oz can of Mighty Blast retails for $19.99 but now you get double the offer with an extra for the same price.
But that's not all. Now you get an even better offer with another free can of Mighty Blast and a free Micro Fiber Duster that attracts dust like a magnet.
That's three 15 oz cans of Mighty Blast and a free Micro Fiber Duster for just $19.99 plus shipping and handling.