Stream Clean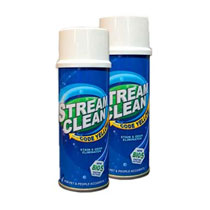 Now there's an easier way to clean pet stains and odors without having to bend over and scrub. The solution is Stream Clean with Code Yellow.
Stream Clean is a stain and odor remover which you lets you blast away the stains and smells your pets leave behind. All you have to do is just point and stream.
You can use Stream Clean to remove pet stains from your floors, carpets, and furniture. It can save you hundreds of dollars on cleaning and replacement costs.
The secret behind Stream Clean is the enzyme action formula. Once sprayed on it goes in deep to destroy odors and stains so no traces remains. This helps prevent your pets from remarking that area.
Stream Clean can eliminate stains whether they are new, old, or set-in. Plus in addition to pet stains, Stream Clean also works on all sorts of different types of stains too. This includes stains from wine, coffee, food, grease, dirt, grass and more.
The formula in Stream Clean is completely safe to use around pets and humans. There no harsh toxic chemicals inside and it doesn't leave any sticky residue behind.
Get the Flash Player to see this player.
A single can of Stream Clean sells for $10 plus shipping and handling. But with this current buy 1 get 1 free offer you can get a second can for free with your order. Just pay the extra shipping cost.
Plus as a bonus a free Mini Blacklight is included. You can use it to easily locate stains and find the ones that your naked eye can't see.