GripGo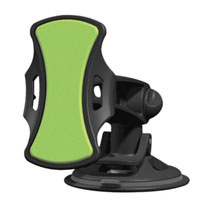 GripGo is a revolutionary new hands-free phone mount for your color. It lets you drive safely and be able to know where your cell phone is while driving.
Now when driving you won't have to dug around for your phone. GripGo can be mounted so that it's always in front of you and you can keep your eyes on the road.
What's unique about the GripGo cell phone holder is that you can just touch the back of your phone to the special polymer surface and it will grip onto your cell phone and hold it securely in place.
Unlike other holders and mounts there are no clips to adjust. Just gently press your phone on the GripGo surface and it will be held in place. It works with phones of all types and sizes.
When needed you just as easily peel your phone off of GripGo. You won't have to worry about any sticky residue left behind because GripGo doesn't actually use an adhesive to hold your phone in place.
The secret is it's special polymer surface which acts like a million tiny microscopic suctions cups. They hold any cell phone in place and keeps it secure until you want to remove your phone.
Get the Flash Player to see this player.
The GripGo comes with the hands-free mount and the dashboard mount. It retails for $14.95 plus the cost of shipping and handling. Currently though there's a buy 1 get 1 free offer you can take advantage of.
As part of the offer you'll receive an second GripGo for free with your order. You just pay for the extra shipping and handling cost for the second free GripGo.