Twin Cut Power Saw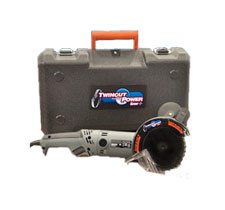 The Twin Cut Technology Power Saw is the high performance saw that cuts through anything to with its twin blades that simultaneously rotate in the opposite.
With the patented counter rotating blade technology, you can through virtually any material without having to change blades. Plus you get less of the usual kickback, vibrations, and sparks that other saws create.
You can use Twin Cut Power Saw to cut through soft metals, hard metals, all types of wood, plastics and more.
The Twin Cut Power Saw is powered by a 900 watt motor that rotates the dual blades in opposite directions at 6000 rpms. Plus the teeth of the blades are made of with tungsten carbide, one of the hardest materials to ever exist.
With the laser honed and tungsten tipped blades you can get precision cutting with less splintering and breaking. These blades last up to 25 times longer than normal blades found on other saws.
Get the Flash Player to see this player.
The Twin Cut Technology Power Saw comes with 6 lubrication sticks for cutting soft metals without warping, a sturdy hard-shell carrying case, a key tool for changing blades, and a 1 year manufacturer's warranty.
You order it for 3 payments of $59.95 plus shipping and handling. Or just make a single payment of $179.85 plus shipping and handling and get a free upgrade to priority processing.