Turbo Snake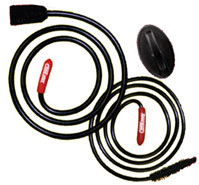 Turbo Snake is the drain removal tool that instantly helps clear up slow-moving and clogged drains.
You simply glide the Turbo Snake down the drain, twirl, then pull out. There's no harsh chemical drain cleaners involve.
The specially designed head will grab and locks onto hair clogs to remove them and free the drain.
The flexible design of the Turbo Snake allows you to easily maneuver down drains to seek out clogs without having to remove the drain stopper.
There is a large Turbo Snake for unclogging showers and tubs, and a small Turbo Snake for sinks.
Get the Flash Player to see this player.
Normally for $10 plus shipping and handling you get a Large Turbo Snake, a Small Turbo Snake and a Peel and Stick Storage Hook. But right now there is a special buy 1 get 1 offer.
So you get 2 Large Turbo Snakes, 2 Small Turbo Snakes, and 2 Peel and Stick Storage Hooks. You just have to pay the additional shipping cost of the second free set.