Flex Seal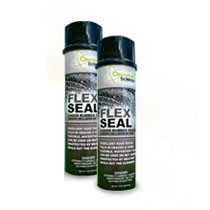 Flex Seal can help you stop leaks fast with just a spray. It's a liquid rubber sealant that in a spray can that coats, seals and protects.
Just spray Flex Seal onto almost any surface and it will seep into the cracks and holes causing the leak. After it dries it forms a watertight seal that last for years.
The patent pending formula in Flex Seal will remain flexible and pliable. It won't dry out, sag, crack or peel over time.
Using Flex Seal is one of the easiest ways to stop leaks and protect surfaces from corrosion. It is easy to carry, simple to apply and there's no messy clean up involved.
Just shake well and spray onto a surface using a sweeping motion. Flex Seal works on just about any surface including wood, metal, tile, concrete, masonry, fabric, glass, plastic, aluminum, porcelain, dry wall, rubber, cement, vinyl and more.
Plus it can be used on both wet and dry surfaces and could be painted over after drying. When hardened Flex Seal can withstand normal water pressure and rainwater.
Get the Flash Player to see this player.
A single large can of Flex Seal can treats between 2 to 8 square feet. It sells for $19.99 plus shipping and handling.
But currently there's a buy 1 get 1 free offer which is available. You'll receive a second large can of Flex Seal for free if you pay for the additional shipping and handling.