Omni Dual Saw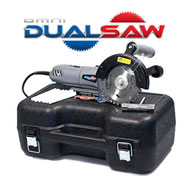 The amazing Omni Dual Saw is the one tool with the power to cut it all. It delivers the ultimate combination of power, precision, versatility, and strength.
The Dual Saw is made with precision engineering and has blade technology that other saws cannot match.
You can virtually cut through any material without changing blades. It is built to handle the toughest jobs.
The secret is the Omni Dual Saw's patented counter rotating blade technology which has 2 blades that simultaneously rotate in opposite directions.
These 2 tungsten carbide-tipped blades are powered by a high speed 900 watt motor allowing them to rotate at 6,000 RPMs.
This allows the Dual Saw to cut through soft metals, wood, PVC, Formica, iron, plastics, aluminum, wood, copper, stainless steel and other materials effortlessly.
The Omin Dual Saw is designed to eliminate the usual kickback, vibrations and sparks that other saws cause. Plus the professional lubricating system allows you to cut through soft metals like aluminum, copper and stainless steel without overheating or causing them to warp.
Get the Flash Player to see this player.
The Omni Dual Saw comes with the Dual Saw Unit, 10 lubrication sticks, a Multi Tool for changing blades, and a hard-shell carry case.
Right now with this special offer you can purchase the Omni Dual Saw for just 3 easy payments of $69.99 plus shipping and handling. Or make one payment of $179.97 and save a total of $50.