Salad Chef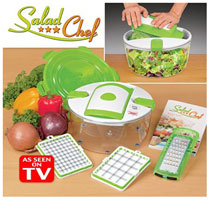 The Salad Chef is the world's most versatile, compact and convenient salad making system. It helps you make incredible salads and more at lighting fast speeds.
You can it to rinse, spin, slice, dice, cube, chop, shred, julienne, serve and store all with just one compact counter-top container.
Anyone can use the Salad Chef to make great salads quickly whether it is regular salads, fruit salads, egg salads, pasta salads or other types of salads.
The Salad Chef features a centrifugal high speed spin technology which spins the food inside dry in a matter of seconds after you rinse them.
The container is crystal clear, durable, and shatterproof. It will last inside your kitchen for many years.
Plus the blades of the Salad Chef are razor sharp and are made with hardened stainless steel that well never dull. Clean up is simple too since everything is dishwasher safe.
Get the Flash Player to see this player.
The Salad Chef System comes with a Sturdy Slicing Lid, Large Serve & Store Container, Jumbo Slicing Blade with Safe Storage Sleeve, Recipe Guide, Fresh Seal & Store Lid and Salad Chef Food Grater. It sells for 2 payments of $19.99 plus shipping and handling.
As a special bonus, you'll also receive a free Medium Slicing Blade with Safe Storage Sleeve with your order. You just have to pay for the extra shipping cost.