Slice-O-Matic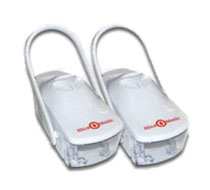 If you are tired of all the slicing and chopping you have to do in the kitchen, then you need the Slice-O-Matic. It'll help cut your kitchen prep time in half.
All you have to do is place your food into the food chute and tap down on the easy-glide handle. It'll down all the slicing for you.
The Slice-O-Matic is great for chopping up and slicing all types of fruits and vegetables. It is perfect for making salads, soups, stews, stir-fry and more.
Using the Slice-O-Matic you slice entire fruits and vegetables effortlessly in just seconds. You slice up an entire bag of potatoes in just minutes.
The secret is a thirty-point great system which propels the precision cutting blade right through your food automatically whenever you tap down.
Plus there's an adjustable dial that lets you choose the thickness of your slices. A chopping blade and a julienne blade is included.
Get the Flash Player to see this player.
The Slice-O-Matic sells for $19.99 plus shipping and handling but right now there's a buy 1 get 1 free offer which is available.
You'll get a second Slice-O-Matic for free by paying the extra shipping cost. Plus as a special bonus you'll also get a free surprise gift valued at $20 with your order.