Chef Basket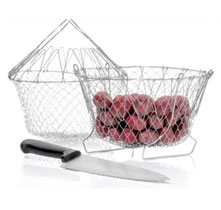 With the Chef Basket you can cook, deep fry, and boil with ease. It is the multi-fuction kitchen tool you can use it for boiling, steaming, frying, blanching, straining and more.
The Chef Basket will help make kitchen work quicker and easier. The product starts off flat and can instantly expands to a flexible cooking basket.
Even when hot water or oil is rapidly boiling in the pot, the specially designed handles of the Chef Basket will stay cool to touch.
You can safely lift out the Chef Basket and no longer have to worry about pouring boiling water into a wobbly colander.  It is perfect for tons of different uses, including cooking pasta, shellfish, veggies, fried chicken, and a whole lot more.
With the Chef Basket you can make hard-boiled eggs and go right from the pot to the ice water and no longer worry about cracking.
You can invert the Chef Basket and it become a steamer. Flip the handles down and it's a free standing colander. Plus you can rinse your food in the Chef Basket, lift the handles back up and go right the sink to the pot in one simple motion.
Get the Flash Player to see this player.
A single Chef Basket normally sells for $14.99 plus shipping and handling but right now there is a buy 1 get 1 free offer where you'll get a second Chef Basket for free.
But there's more because as a special bonus, you'll also receive a free Everlast Chef's Knife valued at $20. You just have to pay the extra shipping and handling for it.