Hulk Hogan's Ultimate Grill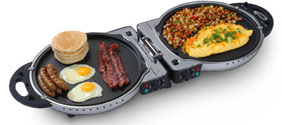 With Hulk Hogan's Ultimate Grill, you can now grill every meal to perfection. This Ultimate Grill cooks with specialized mechanical pressure to sear in flavor and juices, giving you the perfect meal every time.
At the same time the fat drips away to a collection container. So not only will your food taste delicious, they will also be healthy.
The Ultimate Grill also has a floating hinge that is able to adjust to the size of the food you are cooking. You can use it to cook thick items like big, juicy T-bone steaks and hearty pork chops.
The grill can open up flat to double your cooking space. There are dual variable heat settings from 210 degrees 450 degrees that allow you to individually control each grill plate. This special setting allows variable cooking results. You can fry eggs and cook potatoes all at once.
Hulk Hogan's Ultimate Grill is also much more than just a grill. It can also be used as a waffle maker, skillet, panini sandwich press, pizza oven and you can  even use it to bake cookies. It can also be cleaned easily. The grill plates are dishwasher safe.
Get the Flash Player to see this player.
The Ultimate Grill comes with 2 Grill Plates, 1 Skillet Plate, "Hogan Knows Grilling" Book, and a 60-day, money back guarantee. You can order the Ultimate Grill for 3 easy payments of $33.33 plus shipping and handling.
Update: This offer has expired