FlavorWave Oven Turbo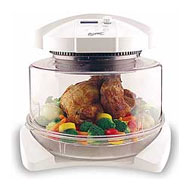 Mr. T proudly presents the FlavorWave Oven Turbo. It lets you turbo cook your favorite foods up to 3 times  faster and without any added fat.
Whether your food is fresh or frozen, you can bake, broil, roast, toast, sear, steam, reheat or barbeque, faster than ever before with the amazing FlavorWave Oven Turbo.
This innovative oven uses a safe combination of halogen heat, infrared waves and convection cooking. Your food is cooked faster and will be juicier and tastier.
Fats and oils are removed with the FlavorWave so it is great for your health and helpful to dieting.
The FlavorWave Oven is simple and easy to use. First place first or frozen food inside. Then just set the timer and temperature control.
In addition to your food tasting great and having less fat, you'll also be saving money. The FlavorWave Oven uses 77% less energy than an ordinary oven.
The FlavorWave Oven even cleans up after itself with the self-cleaning function. It is also dishwasher safe.
Get the Flash Player to see this player.
It's never been easier to prepare juicy vegetables, mouth-watering steaks and chicken, grilled seafood with the FlavorWave Oven Turbo.
You can order the FlavorWave Oven Turbo for just three easy payments of $39.95 plus the cost of  shipping and handling. As a special bonus you'll also receive a free Power Stick Kitchen system with your order. You just have to pay the additional shipping and handling.
The  Power Stick Kitchen system is valued at $100 and comes with the Flavorwave Powerstick unit, Chopping Bowl, Mixing Cup, Whisk, Wall Rack, and the instruction manual.