Halo Oven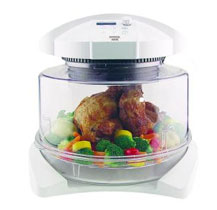 The Halo Oven from Morningware is capable of cooking your food up to 50% faster than conventional ovens while using up to 85% less energy. So not only will it save you time but it will also save you money as well.
You'll get healthier and low fat cooking with the Hallo Oven. Plus all the juices and flavors are locked during the cooking process so you'll get delicious meals.
With the Halo Oven you can broil, roast, grill, bake, barbecue, steam, dehydrates or air fry without adding the fats and oils all on from your countertop.
The secret is the four-way Halovection technology which combines instant-on halogen heat, conductive heat and convection air along with full spectrum of infrared waves to cook your faster with less energy required. In addition this allows your food to be cooked from the inside while sealing in the natural juices without burning the outside.
With the Halo Oven there is no need to preheat your foods. Plus it is simple and easy to use. All you have to do is place your food inside, season, set the digitally programmable timer and you'll have a delicious meal fast.
Get the Flash Player to see this player.
You can order the Halo Oven by Morningware for 3 easy payments of $33.33 plus the cost of shipping and handling. Plus you order comes with a set of free bonus gifts.
You'll get a Cooking Chart & Recipe Book, 25 Gourmet Recipes, 2 Cedar Grilling Planks, Professional Thermometer, Hand Blenders and and Extender Ring.