Pawggles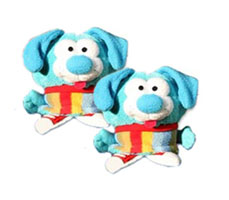 Welcome to the wonderful world of Pawggles, they are the fun and furry stuffed animals that you magically turn into slippers and wear.
The name Pawggles is combination of the two words, paws and giggles since they are a toy animal that provides tons of fun and laughs. Combine them together and you have Pawggles.
Each Pawggle can quickly and easily be turned from a furry friend to a cozy slipper and back. You just have to pop them open and flip them and they become slippers.
Pawggles soft and comfy to wear and play with. They are double stitched for added durability and also features non-slip soles so kids won't slip when playing around with them on. Plus they are also machine washable for easy cleaning.
Currently there are six different cute Pawggles pets avaialble. Each of them comes in 5 different sizes  to fit kids of different ages. You can choose from:
Fun Furry Dinosaurs
Cute Little Pink Kitties
Cute Little Orange Kitties
Magical Unicorns
Lucky Puppies
Adorable Bears
Get the Flash Player to see this player.
A pair of Pawggles sells for $19.99 plus the cost of shipping and handling. And for a limited time, if you order more one, you'll save $2 on each additional pair ordered.
Plus there's also Pawggles Backpacks available too which you can add to your order. This special offer for the Pawggles is not available in stores.