BlanKid Buddy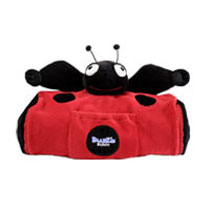 The BlanKid Buddy is a new 4-in-1 blanket, backpack, pillow, and plush animal toy. It has so many uses and so is soft and cuddly, kids will instantly love them.
Children can take the BlanKid Buddy to school as a backpack and play with them as a plush animal. They can even sleep with them as a pillow or blanket.
All you have to do is just remove the inner bag and unzip the sides to transform a BlanKid Buddy into a comfortable blanket or a travel pillow.
As a plush blanket the BlanKid Buddy measures 30 inches long and 15 inches wide. It provides  more than sufficient for most children that are between ages 3 to 8. Plus the blanket can also be secured behind your children's legs to hold it in place.
When used as a backpack, it has an incredible amount of space to carry belongings for school. There are also extra outer pockets which provide easy access to smaller items, such as pens and pencils.
The inner bag is also water-repellent and can be easily removed when converting the BlanKid Buddy into the blanket or travel pillow.  It can easily be reattached when converting it back to a backpack.
Get the Flash Player to see this player.
Currently there's 3 different BlanKid Buddy animals that are are available to choose from . There's Makemba the Monkey, Pailou the Panda, and Lula the Ladybug.
Each BlanKid Buddy sells for $19.95 plus shipping and handling. You can also take advantage of  buy 1 get 1 free offer and get a second BlanKid Buddy, of the same style for free. You just have to pay an additional shipping and handling for the free one.