Space Bag Ottoman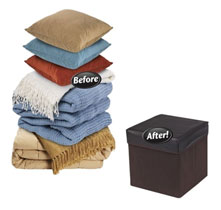 The new Space Bag Space Saver Ottoman is the only piece of furniture that lets you store up to three times as much in style.
All you have to do is pack your stuff inside the Space Bag, pull the zipper, and then push or vacuum out the air.
Afterwards just place the lid on top of the Space Bag Ottoman and you're finished. Plus your ottoman is also ready for use.
The ingenious design helps you save space and gives you a useful furniture at the same time. You can use the Space Bag Ottoman as a footrest, a coffee table, a chair or as an accent piece.
Plus it can folded flat when it is not in use. The Space Bag Ottoman is perfect for college students to get more space and add style to their dorm room.
Get the Flash Player to see this player.
You can order the Space Bag Ottoman with a Space Saver Bag for $19.95 plus shipping and handling. As special bonus you'll receive an additional 2 Medium Flat Space bags and 2 Large Flat Space Bags free with your order.
If you still need more storage space then get the deluxe upgrade. It includes 2 Ottomans with Space Saver Bags, 1 Jumbo Cube, 5 Large Bags and 4 Medium Bags for $49.95 plus shipping and handling. Plus you'll also get 1 free Large Cube and 2 free Large Flat Bags.