Space Bag Tote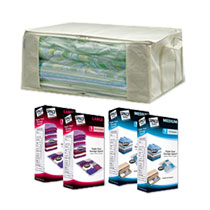 Space Bags have been one of the most popular storage bags around with now over 250 million sold worldwide. Now there's the new Space Bag Stackable Storage Tote.
The Space Bag Tote lets you store up to 4 times as much stuff as plastic bins of the same size.  It makes it easy to pack and store your comforters, towels, blankets, linens, clothing and similar items.
They are airtight and waterproof, keeping everything inside safe and dry. The contents inside is protected from duts, moisture, bugs, odors and more.
Using the Space Bag Tote is quick and simple. You first just place your bedding, pillows, towels, clothing and other contents inside the large inner. Than you attach vacuum hose from any standard vacuum cleaner to draw the air out.
You can then zip up outer bag of the Space Bag Tote and store in the closet, garage, attic, basement or anywhere else you want. The Space Bag Tote has carrying handles that lets you easily move it around.
You can stack one Space Bag Tote on top of another if you like since they have rigid sides and bottom. Plus there's also a see-through windows to let you easily see the contents inside.
Get the Flash Player to see this player.
You can get the basic 5 piece Space Bag Tote set for $19.99 plus shipping and hanlding. It includes the Tote plus 2 free Medium Flat Bags and 2 free Large Flat Bags.
Or if you need more storage space there's a Mega Value Set available. It includes 3 Totes , 3 Medium Flat Bags, 3 Large Flat bags, and 3 Higher Capacity XL Flat Bags for only $68.95 plus shipping.