Craft Lite Cutter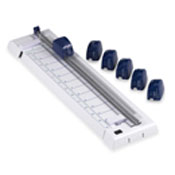 The Craft Lite Cutter gives you a perfect cut every time, making it great for scrapbooks, photo albums, greeting cards, and artwork.
It is the first sliding trimmer with a built-in light that allows you to see where you're cutting. Now you don't have to worry about making mistakes.
There is even a fold down guide to hold your paper in place and a swing out ruler to guarantee a perfect cut in any direction.
You can calso slide out the rolling blade of the Craft Lite Cutter for unrestricted and accurate cutting.
The retracting blade makes it safer than scissors, so it is ideal for school projects and more.
The Craft Lite Cutter also features 6 interchangeable blades that so you can cut out different designs.
Get the Flash Player to see this player.
The Craft Lite Cutter costs $19.99 plus shipping and handling and comes with 3 blades. You get the Straight, Wavy, and Zig Zag blade.
But order now and you'll receive 3 additional blades ( the Fold, Stamp, and Perforated ) free.