Package Shark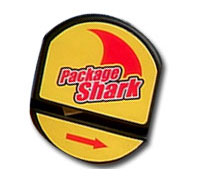 With the Package Shark you no longer have to struggle with those hard to open plastic packages anymore. 
The Package Shark opens plastic packaging of all kinds whether it is  electronics, toys, batteries and more.
It works easily with a single swipe. Plus is completely safe to the touch at the same time.
The Package Shark opens packages of all sorts and sizes no matter what they are  square or round or big or small.
Get the Flash Player to see this player.
When you order the Package Shark you'll also receive receive a bonus pair of cordless Power Scissors absolutely free. Use them to cut through fabric with ease, trims photographs and clips coupons neatly, and more.
But that's not all. Right now there is a special buy 1 get 1 free offer available. For just $9.99 plus the cost of shipping and handling, you well get 2 Package Sharks and 2 pairs of Power Scissors.