Teeter Hang Ups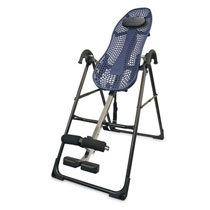 For years Teeter Hang Ups Inversion Tables has been providing an easy to use at home solution for relieving back pain and joint discomfort.
Teeter Hang Ups has helped millions of different individuals get natural relief from the comforts of home. Plus it only takes a few minutes a day.
Unlike other many other products out on the market, it doesn't just cover up symptoms but rather targets the source of the ache.
It offers a relaxing and rejuvenating whole-body decompression solution and is the only home inversion table that is certified to meet the medical-grade standards set by Underwriters Laboratories.
Using Teeter Hang Ups will help rehydrate the discs, reduce nerve pressure, and relax muscle tension. As a result you'll have improved joint functionality and flexibility.
To use the Teeter Hang Ups you just  set your height, secure your ankles and relax while you stretch back. It lets you control the rate and angle of the rotation.
The patented Flex Technology design moves with you in order to accommodate different stretches for a greater range of motion and better results.
Get the Flash Player to see this player.
The Teeter Hangs Ups comes 85% pre-assembled and can fold up for easy storage. It sells for $295 but you have the option of trying it first in your home for 30 days risk free. You just have to pay $14.95.
Plus you'll also receive the 30-Days to a Better Back program. It included a DVD with exercises and stretching routines along with a 30-Day Stretching and Exercise Guide.