Hollywood Nails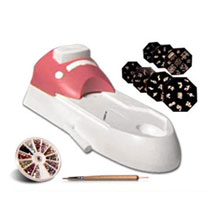 Hollywood Nails is a home nail art system that gives you salon quality nail art at just a fraction of the cost. You can take part in the latest fashion trend without spending a fortune.
By using Hollywood Nails you can quickly and easily put on a variety of different patterns and designs on your nails. There's 45 different images and designs that are fun, flirty, glamorous, and chic.
This all-in-one nail art system takes the guess work out of getting the right alignment with it's perfect placement design. Your nail art will come out centered perfectly.
Using nail stamps it is hard to get the right placement right and often the pattern is misaligned from nail to nail. But Hollywood Nails ensures the pattern and designs aligns perfectly.
You first just place Hollywood Nails down on a flat surface and pull down the lever so the suction on the bottom will lock it into place. Then align your nail in the fool-proof nail guide and apply your favorite nail polish. Next stamp on the design and your done.
The precise position of the stamp gives you the perfect placement every time. It works with both your left hand and right hand no matter the size of your fingers. Plus the stamper is removable to let you do your toes.
Get the Flash Player to see this player.
The Hollywood Nails system includes a Professional Nail Art System, 5 Image Plates, 2 Multi-Color Image Plates. It sells for $19.99 plus shipping and handling.
But there's more. You'll get a free 3D Bling Kit which contains over 2,400 different rhinestones. Also included is a Professional Nail Art Tool that's a dotting brush. You just have to pay the extra shipping and handling cost for these free bonuses.