NutraFuels Sleep Spray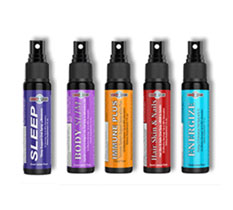 NutraFuels Sleep is new vitamin and nutrient oral spray supplement that can help you fall asleep faster. It will change the way you take nutritional supplements.
The ingredients in NutraFuels is all natural and not only will you get a good night's rest but you also won't wake up feeling groggy the next morning.
The special delivery system lets you spray NutraFuels directly into the mouth in the form of a fine mist. This makes the nutrients absorbed much more quickly and directly into the bloodstream as you swallow.
This effective delivery system can provide up to a 98% absorption rate. This is as much as 9 times better than other products that comes in pills and capsule forms.
The NutraFuels formulas are created from natural sources and contain some of the finest ingredients. They taste great and use a diabetic safe natural sugar substitute called Stevia.
Some of the natural and proven ingredients used in NutraFuels includes Melatonin, GABA and Valerian Root. Just spray NutraFuels in your mouth before going to bed and it can help you fall asleep faster and sleep better.
Get the Flash Player to see this player.
A single bottle of NutraFuels Sleep sells for $19.99 for plus shipping and handling. However right now there is a special buy 1 get 1 free offer that is available.
When you order a bottle of the NutraFuels Sleep Spray you'll get another NutraFuels spray from the product line for free. You can choose form either Body Slim, Immune Plus, Hair Skin & Nails, or the Energize spray.