Derma Wand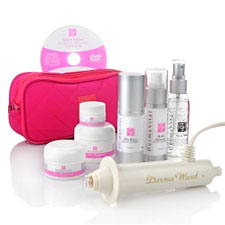 Do you want younger lookin skin? Now you can with the amazing Derma Wand thermal oxygenating skin care system.
Thousands have discovered the wonders of the Derma Wand and are looking more youthful.
Derma Wand is a condensed version of the corrective technology that many professionals rely on for beautiful looking skin.
It sends out a gentle stream of impulses that stimulates the skin at 114,000 cycles per second. Your complexion will immediately respond, become lifted, and have an increased contoured appearance.
The thermal energy helps increase "tissue warming" to cosmetically smooth away the appearance of lines and wrinkles.
In addition, Derma Wand produces enriched oxygen to help purify and retexture the surface of your skin.
Get the Flash Player to see this player.
Derma Wand retails for 4 easy payments of $29.95. But right now you can take advantage of this special free trial offer and try Derma Wand 30 days for free. You don't even have to pay for the cost of shipping and handling.
Plus you'll get free DermaVital skin care products with the free trial. This includes the DermaVital Pre-Face Treatment, DermaVital Hydra Infusion-Treatment, Hydrating Skin Mist, and Hydra Support Face Cream.
Update: This offer has expired