GeneSphere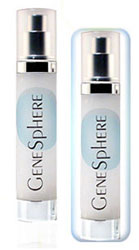 GeneSphere from Biological Solutions is like no other wrinkle treatment on Earth! It can give you smoother, younger skin within minutes of application.
The patented QuSomes technology in GeneSphere makes it one of the first great anti-wrinkle breakthrough since Botox.
The microscopic QuSomes helps carry super absorbent spheres of Hyaluronic Acid deep into the epidermis where they nestle beneath each wrinkle.
These spheres absorb the body's natural moisture and expand, which gently lift wrinkles from beneath the skin and diminishes their appearance.
Within one hour after applying GeneSphere, your skin can look 5, 10 or more years younger.
GeneSphere is recommended by top board certified dermatologists and can deliver results other name brand products can't.
Get the Flash Player to see this player.
Right when you order a 30-day supply of GeneSphere for just $49.95 plus shipping and handling, you receive an additional 30-day supply for free. That is a $200 total value for just $49.95 plus shipping and handling.