Depil Silk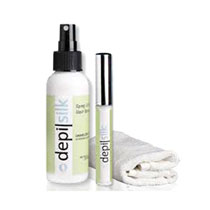 Depil Silk lets you spray and then wipe away unwanted hair. It is a simple, mess free and completely pain-free process.
The formula works great for both men and women, whether it is for getting rid of hair on the arms, legs, or chest.
With Depil Silk, you no longer have to shave, wax, peel, or pluck in order to get silky, smooth and hair-free skin.
Unlike many other hair removal products that have a bad smell, Depil Silk has a refreshing cucumber, melon scent and  is vitamin enriched to moisturize the skin after removing the hair.
Plus a bottle of Depil Silk For Facial Hair is also included for removing unwanted facial hair, such as upper lip hair or chain hair. It can also be used to remove thick sideburns.
Get the Flash Player to see this player.
Usually the set of Depil Silk Spray & Wipe Away, the Depil Silk For Facial Hair, and the included 100% Cotton Towel costs $10 plus shipping and handling. But right now there is a buy 1 get 1 free offer available. By paying the extra shipping you get a second set of the Depil Silk system for free.
Plus as special you'll also get a free luxurious spa quality bathrobe and a fast dry hair wrap with your order of Depil Silk. You just have to cover the additional shipping charges for them.