Children's Throat Cooler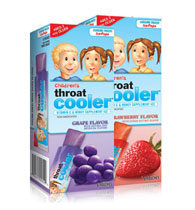 Help relieve your kid's sore throat with Children's Throat Cooler. It is an ice pop with Vitamin C, honey, and other natural ingredients that is designed to remedy a sore throat.
Children's Throat Cooler is a non-medicated solution for soothing and cooling your child's sore throats. It is safe and effective to use.
The real honey inside provides protection for the throat while the Vitamin C will help boost your child's immune system.
Children's Throat Cooler freezes quickly and they taste great. There is no high fructose corn syrup, artificial sweeteners, caffeine, stimulants inside.
Your child can eat as many as they need to soothe their sore throat since each serving is just 15 calories and it is 100% drug free.
Get the Flash Player to see this player.
Children's Throat Cooler are available in two great tasting flavors with Grape and Strawberry. A single box contains 60 servings and usually sells for $19.99 plus shipping and handling but there is currently a buy 1 get 1 free offer that's available.
You'll get a second box of Children's Throat Cooler for free. All you have to do is pay the extra shipping cost. You can choose from getting a total of 2 boxes of Grape, 2 boxes of Strawberry, or 1 Grape and 1 Strawberry.
Update: This offer has expired