Puppy Popper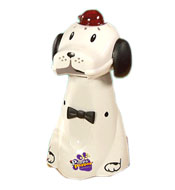 The Puppy Popper is the fun popcorn maker that your kids with love. It is also great fun for your entire family.
The transparent hat comes  with a built in filling scoop and butter melter that lets you make delicous popcorn.
Just pour in two caps of your favorite popcorn and you'll have a hot and delicious snack in just three minutes.
The Puppy Popper is great for sleepovers, movie night, parties, birthdays, or just snack time. It makes a great gift.
Since it is a hot air popcorn maker there is no oil required, making the popcorn more healthy to eat. Plus no cleaning is required and the Puppy Popper fits with any standard 120v outlet.
Get the Flash Player to see this player.
You can order the Puppy Popper for $29.95 plus the cost of shipping and handling. It is the pet that goes pop which kids and the entire family will love.