Tower 200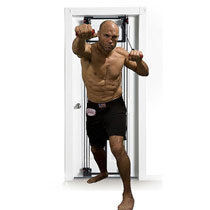 Now you can get bigger, harder, and stronger with the Tower 200 from Body by Jake. With the Tower 200 if you got a door then you got a gym.
The Tower 200 comes pre-assembled and slides onto any door in just seconds without any hassles. Its sturdy steel frame construction has 200 lbs. of total resistance.
You can perform over 200 exercises that can target your entire body. This includes the abs, arms and back, chest and shoulders, legs and more. 
There are no excuses with the Tower 200 because with the 11-Minute Mother of All Workouts, you'll get just the right sequence of vein-popping exercises to target your entire body in only 11 minutes a day.
The Tower 200 is endorsed by 5 time MMA champion Randy Couture and comes with moves and exercises inspired by him.
Unlike other clunky fitness equipment, The Tower 200 takes up virtually no space because it hangs on your door. In fact, you never have to put it away.
Get the Flash Player to see this player.
The Tower 200 System comes with the Tower 200, 1 Pair of Tower 200 Hand Grips, 1 Pair of Tower 200 Ankle Straps, the Starter Guide with 200 Killer Exercises, the Tower 200 DVD, and the Tower 200 Exercise Chart.
You can try the Tower 200 for 30 days first by just paying $14.95 with free shipping and handling.  If you decide to keep it after the 30 days, it is just 4 additional monthly payments of $39.95. Plus as a bonus, you'll also receive an additional 80 lbs of resistance to upgrade your Tower 20.
But there's more because the Tower 200 now also comes with Randy Couture's all new 21-Minute Supreme Of All Mother Workouts. It will get you into shape and ripped fast, all in just 21 minutes a day.