Turbo Jam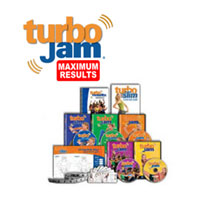 Rock your workout for a hard body with Turbo Jam. Chalene Johnson packs each of her workout with calorie-blasting kickboxing, body sculpting, and the hottest dance music.
Over 1 million people have already chosen Turbo Jam to get the body of their dreams. Now it has been supercharged so you can burn fat and calories to see results faster than ever before.
Turbo Jam is a proven system that is both fast and fun. It can burn an amazing 1,000 calories an hour, much more than other ordinary cardio exercises.
The secret is Chalene's "Elite 11″ signature moves that proven to burn fat and give you a sleek, sexy body. These moves target your core and abs, allowing you to get serious turbocharged results
They are inspired by dance and martial arts moves. Each one targets a specific muscle group or body part to strengthen. The moves are fun, effective, and they really work!
With Turbo Jam you get fun and incredible fat-burning workouts on 5 different DVDs. They are:
Learn & Burn. Chalene leads you through her signature "Elite 11″ moves you'll use to blast pounds and inches away.
Turbo Sculpt. A tighten-and-tone session to reshape, trim, and flatten those problem areas
20 Minute Workout. A quick, full-body workout for when you're short on time.
Cardio Party. A turbocharged dance fest-you won't want this calorie blaster to end.
Ab Jam. An ab routine that attacks your core from every angle for lean, sexy abs.
Get the Flash Player to see this player.
You can order the Turbo Jam Maximum Results system for just 3 easy payments of $19.95 plus the cost of shipping and handling. It comes with a set of easy to use tools and free bonus gifts.
With your order you'll get the Elite 11 instuctional flash cards, the Turbo Results step-by-step guidebook, Turbo Sculpting Gloves, and the Turbo Slim meal plan.